Deer Cave.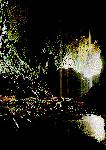 Deer cave is at the Southern end of Mulu's band of limestone. Many years ago this cave was used by hordes of deer for shelter, hence its name. Now, although the deer have gone, the cave still offers shelter to millions of bats by day and thousands of Swiftlets by night. At around six o'clock each evening, the bats leave the cave in huge black swarms in search of food, to the sound of the swiftlets shrieking impatiently outside of the cave waiting to take the bats place.
A huge 160m wide entrance accesses the cave, where the rock one side bears an astonishing resembles the profile of the American president Abraham Lincon. Assuming you can bear the smell of the bat guano, the cave offers many impressive sights, not least of which is the 'Adam & Eve's shower', a cascade of water falling 120m from the caves roof. At between 100 and 120m wide by 120m high by over 2km in length, the passage of Deer cave is the largest cave passage known to man.
The cave has many examples of small animal and insect life, much of which feeds off the bat guano which is just as well otherwise the guano produced by several million bats would soon make the entrance passage impassable.