Clearwater cave.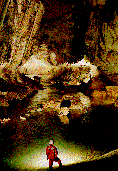 At over 100km in length, Clearwater cave is the longest in Southeast Asia and the seventh longest in the world.
A large underground river passes through the cave, which also has an extensive maze of side passages. The river, when in flood, flows at the incredible rate of 150,000 m3 per hour, carrying with it considerable amounts of rock. Many passages are 'sumped' and are best avoided. Some passages only sump during wet weather, but taking into account that flash flooding is common is this part of the world, caution is always advised.
Other features of the cave are the many examples of flowstone, Phytokarst (sharp needles of limestone), curtains, and fossil passages.
Although the public 'show cave' part of Clearwater is extensive, the cave extends far beyond this and providing you are prepared to wade through chest deep water and crawl through small passages amid the thousands of insects and other creatures that inhabit the cave, it is not difficult to find a local guide willing to take you. Guides are best arranged through the National Park Offices (see contacts section of this site).
While Clearwater cave was being explored, a further cave was discovered while dye testing what was thought to be the water flowing through Clearwater. In fact the stained water flowed out of what was named 'Good Luck Cave' for obvious reasons. To add to the good fortune of the discovery, the cave turned out to contain the largest cave chamber in the world, the 'Sarawak Chamber'. This chamber is easily large enough to accommodate 40 Jumbo Jet aircraft within it's 162,700m2 of floor area. Engineering calculations indicate that the chamber should not exist because the span is too great for that type of rock. However the chamber does, and indeed has existed for many thousands of years and shows no signs of collapse. It might be time the Engineers re-wrote their design guides.